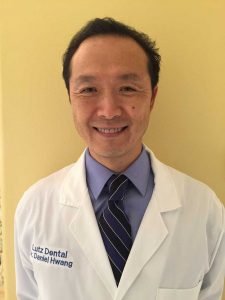 Dr. Daniel Hwang (AKA Dr. Dan) has been voted as one of America's Top Dentists by the Consumer Research Council of America in 2018. This accomplishment is based on his experience, training, and membership in professional organizations. In addition to his dental training, Dr. Dan has received advanced specialized training in dental implant surgery, in which he is a Fellow of the International Congress of Oral Implantologists and in Orthodontics focused on Invisalign.
Requirements of Fellow of the International Congress of Oral Implantologists:
Providing evidence of a minimum of 60 successfully completed implant cases
Documenting cases that required advanced procedures
Undergoing multiple peer interviews and passing the Diplomate exam
Completing at least 150 hours of continuing education within a 5-year window
Dr. Dan is passionate about dentistry and serving his patients with the most advanced and up to date technology by attending numerous seminars and continuing education courses. His area of focus includes cosmetic and implant dentistry, orthodontics (Invisalign), and emergency dental care. Dr. Dan focuses on getting to know each patient, listens to their concerns and customizes a treatment plan according to their needs and finances. He is committed to offering the best service and care to his patients utilizing cutting edge technology, as well as ample experience and knowledge. He will work with you to give you the smile and best dental care that you deserve in a warm, comfortable family-style environment.
Dr. Dan was born in South Korea and came to the States when he was 5 years old. Before moving down to Florida, he owned multiple offices in the Metropolitan New York area providing excellent dental care to a very high-end clientele, as well as community clinic settings for 15 years. He is married to Jan who is an emergency room nurse for the past 25 years, currently working at Moffitt Cancer Center. He has three children. The oldest is Benjamin who received Bachelor of Arts degree from Johns Hopkins University and DMD degree from University of Pennsylvania School of Dental Medicine. Dr. Ben is currently working together with Dr. Dan. In the middle is Nina, who graduated from NYU School of Nursing and is currently working at Memorial Sloan Kettering Cancer Center. The youngest, Thomas, received his undergraduate Bachelor of Science degree as well as his Doctor of Dental Medicine (DMD) degree from the University of Florida and is currently working together with Dr. Dan and Dr. Ben. When not in the office, Dr. Dan enjoys running, tennis, weight lifting, movies and meditation.



Lutz Dental
19105 US-41 #100
Lutz, FL 33549
(813) 591-6666
Pasco Dental
29450 FL-54
Wesley Chapel, FL 33543
(813) 907-6600